What an awesome day of service I experienced this past Saturday. It was amazing on at least two clear fronts. First, I witnessed Philippians 2:14-16 lived out on that day. Second, I was able to see the kickoff of MACC Sports spring soccer program which provides over 125 kids the chance at an excellent soccer experience wrapped in the love and message of Jesus who without them would likely not have such an opportunity.
I pulled up in the van near Miller Hall at 5:40 on Cornerstone's campus wondering if anyone would come. I was reflecting on myself as a college student, wondering if I had this opportunity, would I have gotten up and came? By 6:00 am the van was packed with members of Cornerstone's mens and womens soccer teams eager to eat donuts and journey two hours to Detroit to serve. This was the Saturday before final exams and there was a lot going on around campus that weekend. A lot of reasons not to go that would have been valid! Not one complaint, not one grouch in the bunch! We arrived at 8:10ish. For the next two hours they put up tents, put together soccer goals, set up cones, set up a soccer store and a concession stand, and they placed dozens of signs around the park... and yes they prayed over it all. All of this on a cool 35 degree overcast Detroit morning. The best part was the joy in which they served throughout! They even let me join in on a soccer game with them called "world cup"-- but we will not talk about how that went! Then came the kids and the community from all corners of Pingree Park. Our team jumped right in, loving kids, loving parents, working the soccer stations, the concession stand, the store and more, followed by the tear down and storage process. I heard at least two conversations during this time that were amazing. One conversation I heard while I was cranking out hot dogs at the concession. I listened to one of our soccer girls serve a local mom with amazing grace and maturity as they conversed about soccer, church, faith and their community for nearly an hour. I saw smiles on kids faces as they played soccer with members of the team, as they got new shin guards, cleats and soccer balls to take and use. Simply put, this group shined like stars without arguing and complaining, and they are from a generation that in many cases is getting a very bad rap. Instead of that, I was inspired. The joy they exuded in their service was contagious all around that day, and I am proud to say I was a part of this team. And I have no doubt they were able to energize the already amazing MACC Sports team that does this day in and day out.
I am also so encouraged and challenged every time I go to the Mack Ave community! They are so intentional. They really understand missional living and being a part of a community! The unity they display in a world today that wants us to believe is unattainable is so encouraging. It's a unity deeped in the Gospel of Christ. The leaders and workers there refuse to led the world define who they are going to be as a community. These kids are coming out for the next several weeks not just to get good soccer skills, but also to be loved and to hear the message of Jesus and how it impacts the lives of the coaches, leaders and the kids themselves. Needless to say, even though it was an overcast day in Detroit, there were a lot of shining stars in the 48214, and I only hope our groups will continue to encourage them in what they are doing in their community.
Pray for our Student Leaders:
We have only been here truly connecting since December. I am so encouraged and energized with all the students that have partnered with us, and with the discipleship opportunities that lie ahead! I am asking you to pray specifically at this post for three student leaders I have gotten to know well in a short time.
Pray for Brennan, a sophomore this year, a member of the men's soccer team and chapel worship band who is a education major and ministry minor. Brennan is working in a homeless ministry this summer in Los Angeles, California.
Owen, who just finished is freshman year, also a men's soccer player who is really seeking God's direction for his life in ministry through sports and has become a leader in our ministry opportunities here.
Lastly pray for Alyssa, a senior captain on the women's soccer team this coming fall who has been working with me to set up the women's soccer trip to Haiti this summer! Alyssa is also a very missions minded education major who will be student teaching next spring in Africa.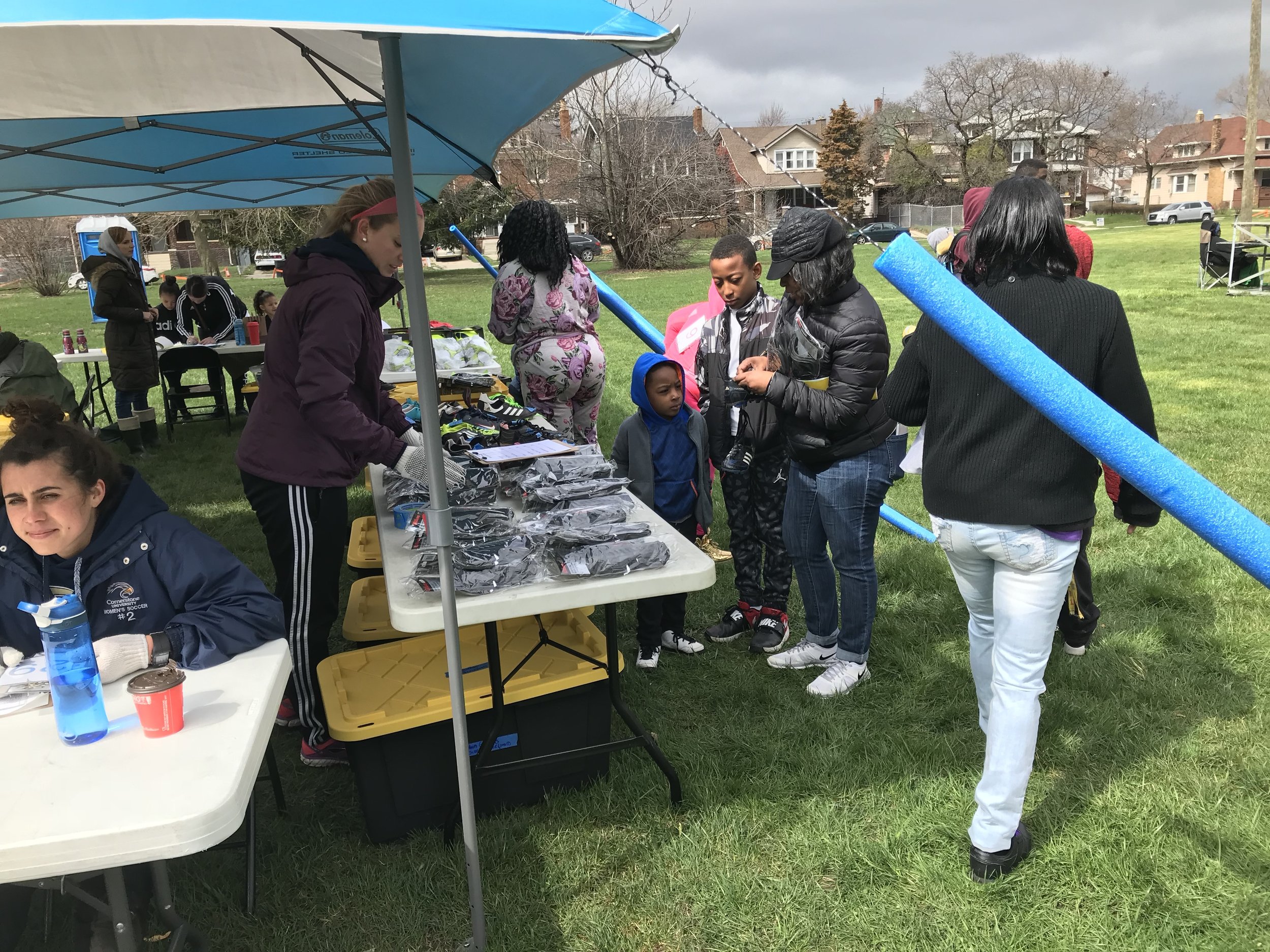 It is truly a privilege to work with these three and so many others others like them as we journey together living out who God has called us to be! It is such a blessing to work at a University that cares for far more than just a degree track! Thank you for your continued prayers and support in our ministry through FSI at Cornerstone and the Grand Rapids community.
Serving in HIm,
Matt
Philippians 2:14-16
14 Do everything without grumbling or arguing, 15 so that you may become blameless and pure, "children of God without fault in a warped and crooked generation." Then you will shine among them like stars in the sky 16 as you hold firmly to the word of life. And then I will be able to boast on the day of Christ that I did not run or labor in vain.